RECOVERY WORKBOOK UPDATE
We began researching and writing the Recovery Workbook in 2013. As of March 2017, 43 sections have been completed which cover all of the 12 steps. The "Working the Step" portion is now being written for all 43 sections. Our goal is to publish the workbook by the end of 2017.
About the Recovery Workbook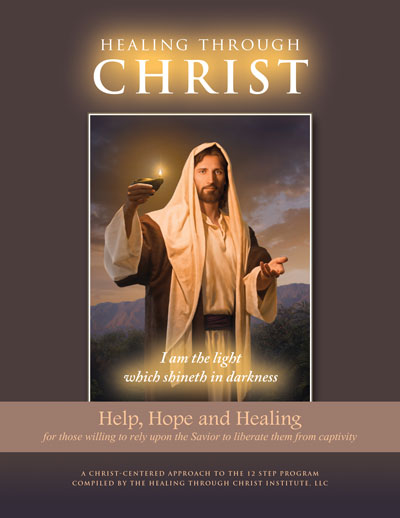 The Healing Through Christ Recovery Workbook is currently being developed and tested in pilot support groups under the direction of the Healing Through Christ Foundation. The workbook is being written to help men, women and teenagers who struggle with sexual addiction to assist them on their journey of healing, as they rely upon the enabling power of our Savior, Jesus Christ. The workbook is being written from an LDS perspective, using quotes from LDS General Authorities, the scriptures and many other valuable resources. Development of this workbook began in the fall of 2013.
The workbook is not currently available for download because it is still being written. We are working as fast as we can to finish the workbook and will make it available for free download as soon as it is ready. Your donations may help to hasten the development of the workbook.
The workbook will be unique in that it will be a compilation of the best recovery information available on sexual addiction.
| | | |
| --- | --- | --- |
| | "Virtually every family has been or will be affected [by pornography/sexual addiction] in some way. Let us remember that men and women, boys and girls who struggle with addiction are not 'those people.' They are your sons and daughters and their sweet companions. They are your husbands and wives. They are your grandchildren and their spouses."Dr. Donald L. Hilton Jr. MD, He Restoreth My Soul, 44 | |
Is the Healing Through Christ workbook really helping those in pornography and sexual addiction:
Even though our workbook is only partially completed, those who have been using these materials in their support group meetings are telling us that it is amazing. Many of those participating in our pilot programs spent years working to achieve recovery. They had previously attended many different types of 12 Step support groups, sought individual therapy from an experienced counselor, and have spent a lot of their time in studying recovery related literature.
Here is what they had to say about our workbook:
Sarah shares her story:
"Hi, my name is Sarah, and I am an addict. I am a woman with a sexual addiction. I once believed that there was no hope for me. No matter how hard I tried to fight my addiction, nothing really ever changed. Nothing changed, that is, until I found The Healing Through Christ Foundation. The Healing Through Christ workbook and group meetings changed my life. Before going to my first meeting and reading that first wonderful step, I was completely hopeless. I was lost in the darkness, filled with so much shame, confusion, and self-hatred. I didn't understand a lot of what I felt or why. I thought I was the only one and that I would never find my way out of the deep, black hole I was in.
"But then I read my first sweet words from the workbook, and little by little, light started to trickle into my life. The words spoke of hope, love, understanding, support, togetherness…They also spoke of hard things– hard truths– things that I needed to face in order to heal and change. The words helped to dispel the shame, clear the confusion, and light my way to a path of self-love that I never even dreamed to be possible. The words pointed me back to my Savior, Jesus Christ, who was always waiting patiently with open arms for me to turn to Him. Without the workbook and the group meetings, I would still be wandering, unable to find my Savior, clinging to hours or minutes of sobriety instead of years. I am so eternally grateful for this program. I can't adequately express my love and gratitude because it fills such a huge part of my heart. My hope is that everyone who struggles with addiction may be able to find the peace that I have found through this incredible work."
Kyle shares his story:
"Hello.  My name is Kyle.  Once a hopeless and defeated addict, I am now a sober and grateful recovering addict.  Some may wonder that if I'm sober- or free from the disease – why I might still identify as an addict. And even more curious, how could I possibly feel grateful for this horrible disease?  In my case, sexual addiction entered my life when I was a teenager.  Despite repeated attempts at confession and reform, my efforts all eventually failed.  All of the strategies that I learned in church – memorizing scriptures and hymns, prayer, scripture study and fasting, confession and commitment – failed to give me long-term sobriety.  These actions served a wonderful purpose in that they brought me closer to Heavenly Father and Jesus and helped strengthen my testimony. Nevertheless, using only these tools, my disease kept progressing and I felt like I was fighting a losing battle.  Despair settled in.
"When I was introduced to the pilot "Healing Through Christ" meetings, things finally began to change.  Through these Christ-centered, Twelve-step focused materials, I learned that I had a literal disease that affected me on a spiritual, mental, emotional and biological level.  I learned that all of the tactics that I had previously used were necessary, were beneficial, but – of themselves, were insufficient.  Just like a person with cancer, diabetes or any other diseases, I needed both the spiritual strength of my spiritual practice, and I needed to take the specific actions necessary to address the disease that plagued me – the disease of addiction.
"The Healing Through Christ meeting materials helped me to understand what I was dealing with – and in understanding, I could be just a little more kind, a little more compassionate towards myself and others like me.  They taught me strategies to fight the disease, and how to pay attention to what worked best.  They offered me a community of people with whom I could bond and in so doing, join together in this otherwise overwhelming journey.  In short, I was able to learn how to develop a strong, successful recovery program.
"Today I live a clean and sober life, and, when given the opportunity, I try to help others who share my challenges.  My relationship, hope and faith in the atonement is richer than it could ever have been without this journey.  As Jesus taught, he who is forgiven much, loves much.  Though I have attended many different twelve step groups, I have never found one that is more comprehensive, more informative, more helpful, and more Christ centered than this wonderful program.  I owe my happiness, my joy and my peace of mind to the people and the materials of Healing Through Christ.  I can only hope to pay forward the beauty that it has brought into my life.
"My name is Kyle, and I am a gratefully, recovering addict."
Feedback from the men in the pilot support group:
"I have been attending 12 step groups for almost five years. During that time I spent hours upon hours every week reading 12 step books, manuals, books on addiction, articles, scriptures and more. Because I struggled with addiction I also tried reading self help books and relationship books to improve myself and gain motivation. Through this process I have learned much about addiction and addiction recovery as well as how to improve as a person and follow God. It took a long time to learn what I know now and I have much more to learn. I have seen that during the the last four months while attending the Healing through Christ support groups and reading the materials that everything I have learned over the last 5 years and more, is all included in this manual. I wish I would have had something like this in the beginning of my recovery processes to help teach me these lessons and principles that I had to learn the hard way. The Healing Through Christ workbook is inspired and has the capability to accelerate anyone's process of healing and coming to the Savior, as long as they study, ponder, and apply the principles found therein."
"The Healing Through Christ materials have given me a deeper understanding of how to apply the Atonement in my life through the 12 Steps. The knowledge and strength I have gained and the Spirit I have felt through my participation in the program has been invaluable in my efforts to attain sobriety and recovery."
"The Healing Through Christ addiction recovery materials are giving me a deep awareness and understanding of my addictive challenges: the elements of denial, the triggers, the difficulty coping with emotions, and the deceitful lies of the adversary. Faith, help, hope and trust come through inspired words of the scriptures, prophets and apostles, professionals in the field, and the miracles shared by those in recovery! The most powerful element of these materials comes through the continuous focus on the Savior, Jesus Christ, and how to access the power of His Atonement to recover and heal me from the devastating affects of sexual addiction!"
"The year and a half that I have been previously attending/working the 12 step program has been great, and a source of hope for recovery. Yet, The Healing Through Christ workbook/program has been amazing to me! The depth of understanding I have gained and more importantly, the hope I have for recovery has been more than I thought was possible for someone like me. It is evidence to me that God continues to find ways to reach out to those in addiction and bring them to the One Who Can Heal, saving us in the process! Thank you, thank you, to all who have been instruments in God's hands in bringing this material forward and for loving us in the process."
"The pilot support groups using the Healing Through Christ workbook have truly been life changing. The meetings are a place for me to hear powerful testimonies from those who have had the knowledge and power of a loving Savior forged in their hearts. They have overcome struggles and challenges similar to the ones I face. I have been able to gain powerful knowledge regarding the effects of my addiction, and the opportunity to see and accept an honest look at myself. This prepares me to not only receive, but also to accept, healing through Christ. Phenomenal tools have been learned, which have enabled me to access the outstretched hands of the Savior and our loving Heavenly Father, and find recovery through them. Many thanks to this wonderful workbook, which truly emulates the love of heaven, the miracle of forgiveness, and the path possible to receive 'peace in this life, and in the world to come.'"
"This workbook is really inspiring. I have attended many other recovery groups, but the way this material is presented, and the spirit that I feel has really made sense to my mind and is empowering me to find the recovery I have always wanted."
"Using the Healing Through Christ workbook, has given me the information and understanding that I have never had before about how addiction affects my brain. This knowledge makes it so much easier to move forward in recovery. I now understand the process that I am going through and that enduring the difficult times will lead me to more peace and freedom."
"As I attend support group meetings using the Healing Through Christ workbook, the weeks seem to pass more and more quickly, and I realize that I have had better and better weeks, living in recovery. I look forward to the next meeting, being able to report that I have applied the principles we have discussed, and that they are working in my life."
Feedback from the women in the pilot support group:
"I'm so glad that this workbook is being developed to assist in the specifics of recovery from sexual addiction for both men AND women. The topics cover such a wide range, from spiritual principles to brain chemistry, from emotions to addictive behaviors. As a woman recovering from sexual addiction, I can see that this workbook will be a priceless comprehensive resource for all seeking recovery."
"This addiction is real! It affects everyone, men, women and children. This workbook is gift from Heavenly Father to me. I hope this workbook spreads throughout the world and will help all who need it."
"I love this workbook! It is comprehensive and all inclusive; teaching the love of God, the atonement, and the principles of recovery, through the voice of those who have already walked the path of recovery. This makes this workbook the most complete resource available to those struggling with sexual addiction."
"If you feel like you are lost, in a dark place, filled with confusion, then know that where you find yourself is a lie. Christ's light breaks through all of that and He will guide you to a better place. You will find healing in this workbook. Have faith, He loves you!"
"I am grateful to have been part of providing feedback for this workbook, giving a voice to those who struggle with sexual addiction. For so long I was alone. I know I will never be alone again. My hope has been restored."
"Attending a meeting using this workbook helps me feel such hope and know that I am not alone. I begin to stop feeling shame and hopelessness when I listen to others share and know that there is recovery."
Feedback from the teenagers in the pilot support group:
"This workbook has blessed my life amazingly!!! It has really saved my life! Going to these pilot support group meetings has given me hope. Before I was going, I felt like no one could help me. I felt alone. I would talk to my Bishop every Sunday but it wasn't helping me find recovery. The first pilot support group meeting I went to I was really scared because I knew I was going to be the only teenager. It wasn't bad at all, I was quiet but all the people were super nice and cool and shared their struggles with me. Since I've gone to these meetings, I have learned I'm not alone in my struggles with pornography. I've learned ways to help me fight the temptation. I've also learned that I'm not a bad person for doing these things, I just got caught up in a bad addiction that I need to get over."
"When my parents discovered my addiction and asked me to come to these meetings, I agreed to come, and figured I would just sit through it, waiting for it to end. After being here a couple of weeks, I am really enjoying it and learning a lot about myself. I am seeing that others have similar challenges, and that I am not alone. It is really helping me, and I look forward to coming back."